↪
YEAR-ROUND Skill Development for your TEAM...
Imagine having a comprehensive skill development curriculum that can be used year-round with your team. Wouldn't that be great?

Well, this is what you'll have if you enroll your team in Superhandles University.

In Superhandles University, you will be able to objectively assess the skill level of your players by using our 100 Level Rating System. This eval system will test shooting, dribbling, passing, conditioning, agility, mobility, and more.
Once your players' levels are determined, you will have customized workouts literally at your fingertips. You and your players will be able to access the University on a smartphone, a tablet, or a computer.

Each player will have their own login to the University and be able to access the instructional tutorials, the workouts, the streaming audio, the eval sheets, and the Workout Tracking System.

After each workout, your players will enter their statistics into the Workout Tracking System.

As the coach, you will have your own Coach's interface that will allow your to access the workout statistics for each of your players. The tracking system is quite detailed, and it will enable you to select a specific category (such as mid-range pull-ups), and the player's statistics will then be graphed. You will have detailed workout information for each of your players at the click of a mouse.

Every player in the world, regardless of age, gender, size, or level of play, will fall somewhere between Zero and 100 on our Rating system. This means that you can utilize Superhandles University with your youth team, or your NBA team. It is an exhaustive player development curriculum for all levels of players. No matter how good your players become, there will still be room for improvement.
Imagine have a team full of players that can handle intense defensive pressure off the dribble. Imagine them having the ability to create a shot for a teammate, or themselves. Imagine having a team full of players that can shoot the lights out. Wouldn't this be wonderful?

We have good news for you. Our systematic curriculum has been designed to empower your players to build Game-Ready skills as fast as possible. Have your players ever struggled to translate their skills from practice to games? Well, our years of research have found the optimal way to make this happen.

We know that you are probably working extremely hard to help your players become better, but you just can't be there all the time. We would like to work side-by-side with you to help your team become the best that they can be.

You may be experiencing some very restrictive off-season rules that limit the amount of time that you can spend with your players. This can be tough, but with Superhandles University, your players could be following our game-ready curriculum on a daily basis, and you won't even have to be there.


↪
Here's what you will receive in
Team University:
Over 50 Full Workouts on video!

Players can perform these workouts in their
entirety
while the specified workout video is playing! You won't have to read the drills off a sheet of paper or try to remember how to perform a particular drill. Just play the video and do the workout while it's playing. Pretty easy, huh?!



More insight on the workouts:



10 Fundamental Workouts specifically designed for beginners. These workouts fall within our 0 to 10 skill range. If you are coaching a youth team, these will help you tremendously!
12 core Game-Ready Workouts. All you have to do is play the instructional workout, and do the workout along with Jon and other Superhandles players. Some of these workouts are individual workouts and can be done alone, while others are Contact workouts and require another person.
8 Crazy Handles Workouts! This includes 7 different 1-hour Crazy Handles Workouts as well as one long Crazy Handles Workout that is approximately 2 hours and 48 minutes in length. These workouts will teach you crossovers and other moves that have been used by Kyrie Irving, Jason Williams, Allen Iverson, Jamal Crawford, Stephen Curry, Grant Hill, Michael Jordan, and many others. Footwork, body position, hand position, head position, and eye position are explicated in extreme detail for the moves in these workouts. Furthermore, pull-up jump shots, floaters, and hook shots are detailed and emphasized as well. If you want Crazy Handles that are Game-Ready, these workouts are for you!
The Killer Crossover Workout. Learn how to develop a Killer Crossover that is Game-Ready.
The DB-Out & Double-Team Workout. Learn how to do the move that Allen Iverson famously did in the 2001 NBA Finals. In addition, learn how to develop skills that can enable you to handles double team pressure.
2 Full-Court Workouts. These workouts will help build game skills at full-speed. Full-Court Workout #1 focuses on rapid consecutive handles while sprinting, while also focusing on attacking a defender at full speed. Full-Court Workout #2 focuses on pushing the ball up the court and transitioning into a hard stutter-step. A variety of different moves are drilled. The last 10 minutes of this workout incorporate live drills against defense in order to apply the drills/moves that have been previously performed. You will also find that this workout is quite the conditioner!
12 additional Game-Ready Workouts. Our Game-Ready workout library has been steadily growing, and we plan to continue adding more workouts as we see fit. Please let us know of a workout you would like to see!
Access to 5 pre-recorded Live at the Barn Workouts. These worked were recorded live at the Hildebrandt barn in Dayton, Oregon. The workouts focus on a variety of drills, moves, shots, passes, and footwork.
Video Tutorials:

Access to our Super Shooting Instructional Video. This video will teach any player how to shoot a basketball in the quickest and most game-ready being taught today. This video exposes many pseudo shooting requirements that are commonly taught and shows you why they are hurting your shot! (Our new 2016 version will be added soon!)
The Super Fundamentals Instructional Video. This video explicated the key fundamentals that should be performed in all Superhandles workouts.
The Common Mistakes Instructional Video. This video addresses the most common mistakes that players make during Superhandles workouts and how to correct them.
2 pre-recorded Live Q & A's. These Q & A sessions provide answers to questions that can make a difference in your game.
Track Your Players' Progress and More with these AMAZING features:
The Super 7 Fundamental. This is the eval that every player should start with. This assesses a players' fundamental skills from 0 to 10. To "unlock the door" to the next 90 levels, a level 9 must be achieved. Proper fundamental skills must be developed in order to build game-ready skills as quickly as possible. This eval should be performed every 2 to 4 weeks.
The Game-Ready Super 7. This the full 100 level rating system for shooting, dribbling, passing, conditioning and more that can begin to be utilized once a player scores at least a 9 on the Super 7 Fundamental. This eval should be performed every 2 to 4 weeks.
Bench Mark Contact Evals. This system consists of the Game-Ready Shooting Eval and the Game-Ready Dribbling Eval. Once a player scores at least a level 20 in the Super 7, he/she can begin utilizing the contact evals every 3 months. These should be used in conjunction with the Super 7 in order to give a deeper assessment of the skill-set of your players, identify weaknesses, and provide the detailed feedback you need to help your players become the best that they can be.
Coach's Interface. You will be able to add players to your roster and view workout statistics for each of your players.
Superhandles University Access for all of your players. Each of your players will be able to sign in to their account and access Superhandles University while on their own!
Access to our Workout Tracking System. Each player on your team will have their very own login to Superhandles University. After each workout your players perform, they will have the ability to enter their shooting and dribbling stats on their Hoopfolio page. Shooting stats can be graphed on a day-to-day, week-to-week, or month-to-month view. They will be able to document all of their workout workout statistics on a daily basis.
Automatic Email Reminders. If your players aren't entering their workout statistics for a specific number of days, which you set, they will receive an email encouraging them to do so.
Access to all of our included videos for as long as your team is enrolled!
↪
The Road-Map to
Game-Ready Skills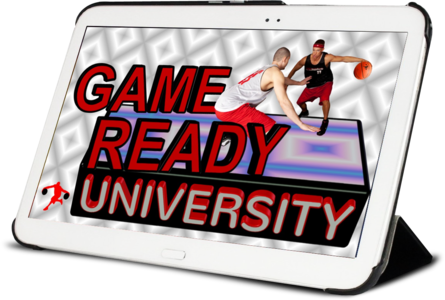 This program will teach and train your players in
systematic
fashion to build
Game-Ready skills
against intense defensive pressure
, which include:
The Pull-up jump shot.
Handles that will empower them to go anywhere they want on the floor.
A multiplicity of ways to create space off the dribble.
Optimal footwork techniques for spot up shooting, dribble moves, and pull-ups.
Game-tested crossover dribbles & Super Moves that can be used to create an advantage.
Shots that can be used to score around the basket.
Pin-point passing skills to set-up a teammate
Mid-Range and 3-Point shooting.
Skills to handle the ball and shoot against fouling defenders.
Much, Much more.
The fact that you're here right now tells us that
you want your team to become the best that they can be
. You might have dreams and goals for your team that you'd like to achieve, and
we would like to help you get there
. This curriculum works with players of various levels and abilities and gives them an accurate roadmap to maximize their potential.
The individual version of
Superhandles University
costs only $27 per month. But the breakdown is even better with the team version. Every team option equates to
less than $6.50 per player per month
.
View the team pricing options by clicking the yellow enroll button.
Note: If you decide that you no longer want your team to improve your game, you can
easily
cancel
on your account page

.