How to build CRAZY HANDLES and a WET JUMP-SHOT.
Learn the

secrets

to building

game-changing

skills.
The Complete Superhandles Advantage Program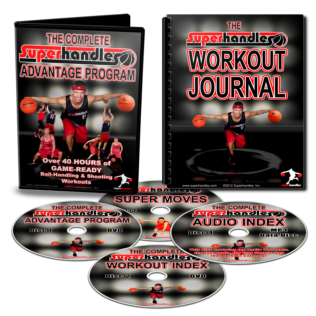 SECURE CHECKOUT
↪
A SERIOUS Problem . . .
The vast majority of basketball players will never be the best they can be. This can be due to several factors, such as:

Not following a systematic curriculum that is specifically designed for the player's skill level.
Not having a systematic method to chart progress objectively. If a player doesn't have this, they will never maximize their potential!
Not performing even close to enough shooting and dribbling repetitions while using optimal techniques.
Spending too much time focused on AAU basketball. Playing is not a substitue for systematic skill development!
Not mastered the 8 core ways to create space.
Not mastered the 5 essential passes that can be used to setup a teammate.
Not mastered the 6 moves that every devastating dribbler will have in their arsenal.
Are you having trouble with any of the above listed points? If so, this is holding you back from being the player that could be. And if you continue doing the same thing, you probably won't ever maximize your skill-set basketball player.
We have some super news for you, though. We have a systematic training curriculum that you can start doing today, which will help you build SERIOUS skills FAST. It is known as the Complete Superhandles Advantage Program.
↪
What's Included?
An introduction to the whole program.
An instructional video on the Super Fundamentals that you should implement while performing the workouts.
An instructional video on Common Mistakes that players normally make while performing Superhandles workouts, and how to correct them.
An instructional video on the Shooting Fundamentals that you should utilize to maximize your shooting ability. Many prominent yet detrimental shooting myths and cliches are exposed and refuted. If you want to be a Super-Shooter in games, you won't want to miss this!
A video on the Superhandles 100-Level Evaluation that you can use to find your ball-handling level and chart your progress. This is a tremendous tool to put your ball-handling improvement on steroids.
A video that explains the Superhandles Audio workouts, and how they are to be used in conjunction with the videos. In addition, there is a detailed breakdown on how to document your workout results in your workout journal. The Workout Journal will allow you to visually document your ball-handling and shooting results from day-to-day, week-to-week, and month-to-month. This will help you keep you focused while putting you in a position to truly maximize your improvement.
Short videos of all 20 workouts included in this program. This workout index will be used to look up a scheduled workout in order to learn the names of the drills as well as how to perform them.
Super Moves Video. This video is a combination of Super Moves Volume 1 and Volume 2. There are over 50 moves off the dribble included in this video, and they are all broken down in detail and shown in live situations. This is a paramount component and teaching tool that will show you how to apply the moves against good defenders!
Mp3's of all 20 workouts. Each workout is 1.5 to 2.5 hours in length.
The evaluation audio mp3. This audio file can be used to time the eval drills without the use of a stop watch. All you have to do is play the audio and you'll be led through the eval!
The evaluation sheets and evaluation key. The Eval Sheets will be used when writing down your eval scores. The Eval Key will then show you your level of performance in each drill.
The Workout Calendar aka Workout Regimen.
A digital Workout Journal. The digital files that make up the Workout Journal can be printed over and over again to document your workouts. [Note: The workout journal is not physical. It consists of digital files that you can print.]
More insight on the workouts:

All workouts include AT LEAST 300 game-like jump-shots and AT LEAST 100 Free-Throws.

In addition to being one of the most serious

individual

(19 of the first 20 workouts are one-player workouts) skill-building basketball regimens that we offer, this program is also a terrific conditioning program. All workouts should be performed at full-speed game intensity. [Note: Superhandles University can be a great compliment to this program. Learn more by clicking here.]

These workouts are no stroll in the park. They are designed for

dedicated

basketball players that aren't scared to work hard for a couple hours each day. If you're willing to commit yourself to this program and put in work on a daily basis, you'll be adding skills about as fast as a calculator. We have the roadmap. All you have to do is follow it.

That's $1,340 worth of workouts that we've included in this program! We could have released these individually, but for the sake of our training regimen, we needed to package them together. As you can probably guess, this program has taken many years to design and put together, and we guarantee that you'll see PHENOMENAL results if you fully commit yourself to it. Don't let this opportunity pass you up. Gain the Advantage over your competition!

Superhandles has been highlighted in:






"Just wanted to let you know that my 7th grader just completed his first 30 workout regimen. He does 4 workouts per week so it took about 7 weeks.
His results I thought were amazing..."

"He is so excited to see results and have a way to quantify the work he has put in. He shot over 13,000 shots over the 30 workouts. His free throw percentage has improved by 10% in games. About 3/4 of the way through the workouts he really started scoring in his AAU games. He had his 2 best games a couple weeks ago when his team won a weekend AAU tourney here in Utah. He had 53 points in 2 games and made 10/16 three pointers. He went 9/10 from the line. The interesting thing is that they all just came within the flow of the game. Thanks for the great program that keeps him pushing hard."
Todd Smithson - Cedar Hills, UT

"We just completed the 30th workout of the 0-24 skill sets and he tested out as a 24. Which is amazing considering he started as a 8 skill level… I know my boy is only in 3rd grade…but as a parent it's the best feeling in the world when you see the drills turn in to skills and then skills into

confidence

. We have followed the workout plan and I'm 100% confident in your method of teaching. You have probably trained 1,000's of players…but it is very exciting to me to wake up every day an[d] witness the organic growth of my son."
Eddie Couch

"Jon's program takes it to a whole other level. I mean, I learned a lot from Ganon Baker, Jason Otter, and Micah Lancaster. They're great trainers in their own right. But what Supe does with the basketballs and shooting … he takes it to a whole other level. He covers everything. I call Supe's program the Defense Destroyer. He's taken the point guard game, and just the dribbling game altogether, and taken it to a different level. Supe really has taken my drills, and the drills he's taught me, and it translates to the game … which was what I was missing. I think that's the biggest thing that Supe has over everybody else. I finally got my dream fulfilled and played my first year of professional basketball in Orlando. Without the Superhandles training, I would have never been able to do that."

Jason Bunch - Orlando, Florida
↪
The Road-Map to
Incredible Skills
This program will teach and train you in systematic fashion to build ridiculous skills as fast as possible. Some of these skills include:
Ambidextrous dribbling, passing, and finishing skills. You will be trained to eliminate your "weak" hand and build two strong hands.
Handles that will empower you to control the ball and perform a multiplicity of dribble moves while sprinting!
The 8 core ways to create space off the dribble. All good ball-handlers should be able to create space off the dribble, and this will be drilled in this program!
Optimal footwork techniques for spot up shooting, dribble moves, and pull-ups.
Crossovers & Super Moves that can be used to create an advantage.
Mid-Range and 3-Point shooting.
Conditioning. Imagine being able to sprint up the floor and attack all game long.
Much, Much more.
If you were perfectly content with your current skill-set, you probably wouldn't be reading this right now. But if you decide to pass on this serious training system, what's going to happen if one day you end up facing a player who has dedicated himself/herself to this program? Who's going to have the Superhandles Advantage?

The fact that you're here right now tells us that you want to have the skills to be a GAME-CHANGER when you step on the court. You might have dreams and goals in the game of basketball that you would like to achieve, but you haven't had a roadmap to get there. Well, this program is designed to build your individual skills as rapidly as possible. 19 of the 20 workouts can be done on your own. Just play the audio workout and it will tell you what to do. The timed sets within these workouts are systematically designed to super-charge your skills and conditioning as rapidly as possible. This curriculim will help you maximize your skills, regardless of your age, your size, or your athletic ability.

This program works great in conjunction with Superhandles University, so if you're not yet enrolled, you're missing out. Learn more by clicking here.




The content in this program is worth over $1,854. You can get it today for ONLY $397.



You have two options for program format: The DVD version, which is sent in the mail, and the Streaming version, which is accessed online by signing in to your account.

Click the yellow button below to choose your desired format.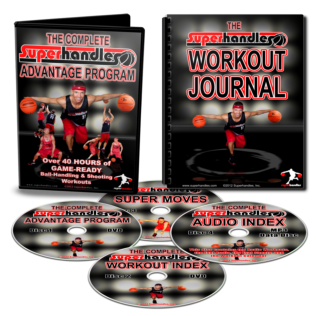 Worth over $1,854.
Yours for ONLY $397.

SECURE CHECKOUT